Star Tag
Tutorial 16
Here is the zip file with the patriot font and the chain link.
If your not from the US, use a shape and colors you wish.
Open a transparent image 400x400.
Set your color palette to black and nil for the fill.

click on the shapes icon and pick the star.
Add a star, mid size.
duplicate the layer three times
Position the stars, merge visible layers.
click the magic wand inside a star,
selections/expand/2pixels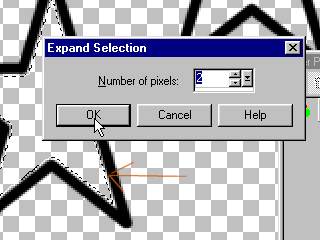 Add a layer. Drag the layer under the stars.
Fill the bottom layer with red. Selections/select none.
Repeat and fill with white then blue. Be sure to click
on the star layer to click inside the star/expand/
then click on the color layer to add the color.
Click on the star layer. Add a drop shadow to the star layer.
Click on the color layer.
Effects/ Texture Effects/Weave
Use this setting.
Merge the layers.